MOSES MUSA BANGURA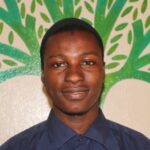 My name is Moses Musa Bangura, I am 22 years old. I am a beneficiary of Schooling for Life and I am attending the Milton Margai College of Education and Technology Congo Cross Campus, studying Civil Engineering and national diploma year one (1).
I enjoy the scholarship Schooling for Life gave me; while others are thinking of how they can pay their college tuition, I am there thinking how to get the best grade as a Schooling for Life student.
I also enjoy the values Schooling for Life is teaching us and at the same time share them with us like respect, integrity to crown it all, how to be optimistic about ourselves and how can we reach to that goal of optimism.
I seriously like the skills training as it creates good impact in me and teaches us something technical in life, like how to be creative, how to be with others and how to be the man you want to be.