Dinnerbox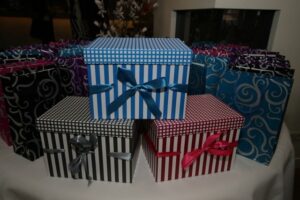 Do you love good food and enjoy organizing a dinner party? And do you want to help educate and empower young people in Sierra Leone? Good news!
You can support Schooling for Life by organizing a dinner party. We have developed a Dinnerbox with several ingredients for a great evening.
You can request the Dinnerbox by sending us an email at info@schoolingforlife.net. The price of the Dinnerbox is €15. The Dinnerbox can of course be used by you or it might be an original gift to give to someone else!
The Dinnerbox contains ingredients for an African dinner, leaflets and a DVD with information about Schooling for Life, Sierra Leonean recipes, a quiz and discussion points for an informative evening. When desired, you can request an employee of Schooling for Life to join the evening.
Determine who takes care of the food. You can prepare the food yourself, but you can also let someone else cook or organize a barbecue. Do it your way!
When you organize a dinner party, your guests will often give you a bottle of wine or flowers when they arrive. For this dinner, ask them to make a donation to Schooling for Life instead. You can transfer the total amount of donations to Schooling for Life:
Schooling for Life Foundation
Bankaccount number: (IBAN) NL49RABO0171749022
Rabobank, The Hague
To get more background information about Schooling for Life, you will find a DVD about Schooling for Life and for some extra entertainment a quiz and some discussion points. In addition, there are leaflets about Schooling for Life, which guests can keep. With these items we have made it easier for you to inform guests about the goal of our organisation and what we do.
Furthermore, we would love it if one of your guests takes over the Dinnerbox. Pay it forward!
N.b: currently, the Dinnerbox is only available in the Netherlands.